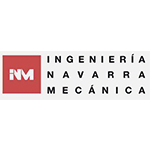 Description
Ingeniería Navarra Mecánica (INM) was founded in 2006. Although it was constitute as a new company, its activity constitutes a continuation of that developed by Engineering Lator SL, with both customers and technical knowledge having been transferred from this one to INM.
The work of INM is focused in two main areas: mechanical development of equipment and automated lines, including light and heavy machinery, and manufacturing and installation of industrial equipment and automated lines, including design, construction and maintenance.
Today, INM is a leading company in the field of design and development of industrial machinery within its scope. INM's market position is a result of the company's ability to meet the needs of customer of product and machinery.
The company's process tries to cover all the needs of the client, from the reception of the orders until delivery of product and machinery developments. This process begins with a first contact, in which the job specifications are defined together with the client. From INM it is considered that the success of the work and the quality of the final product obtained are a function of the continuous communication with the client during the development of the project. Next, a work team is fully dedicated to the project, committing to its development. Training, Qualification and proven experience of INM professionals, allows the company to contribute different solutions to the problems posed by clients, for the development of highly competitive. As all its products are made to measure for the client, in most cases, it is necessary carry out development and innovation activities. The products finally designed and developed are diverse, a function of the multitude of requirements requested by customers. In these developments the providers contracted by INM play an important role, allowing to work with the most advanced and latest generation products.
Final market sector and end users to which INM work are widen, from the agroalimentary sector to manufacture, automotive, steel sector or waste and waste water treatment. Waste treatment has been since the creation one of the main market sector of the R&D activities and developments of new machinery and treatment plants of the company.
Role in the project
INM will participate on the project on activities of design and implementing treatment line after the sorting system.
INM will be in charge of adjustments of mechanico-chemical treatment and actuator system and the implementation
on DEMO 1.