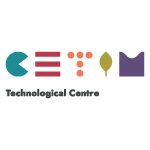 Description
CETIM is a private non-profit Technology Centre located in A Coruña, Spain, which mission is to promote research, technological development and innovation in different economic sectors and economic activities. The Centre is focused on industrial support through applied collaborative R&D focused in the areas of Eco Bio Technologies, Advanced Materials and Digital Industries.
Role in the project 
CETIM counts with a highly qualified, dynamic and multidisciplinary research team with a strong expertise in the development of Life Cycle Assessments of processes & products, as well as a wide knowledge in Eco and Bio Technologies and in coordinating national and European R&D projects.
Its technical specialized laboratories, supplied with scientific equipment and environmental technical software tools, will make CETIM contribute to SUNRISE through the Life Cycle Assessment of recycling process of PVB using LCA methodology, Social Life Cycle Assessment and Health, safety and risk evaluation (WP7). Moreover, CETIM will collaborate in the dissemination, communication and exploitation activities (WP8) and in the project management (WP9).