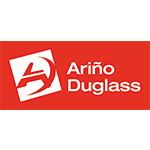 Description
Ariño Duglass is one of the first independent European companies dedicated to the design, manufacturing and selling of transformed glass. The head office is located in Zaragoza and has a surface area of 100.000 m2. Extensive experience that commenced in 1958 and customer trust along the years, has put Ariño Duglass at the forefront, placing the group amongst the elite in the sector. Thanks to continuous investment in research and development, improving production processes, ongoing training of qualified personnel who form the core of the company, a carefully planned logistics service, constant adaption of the company to the market and to the needs and demands of the customers, Ariño Duglass has been able to meet new challenges in production and service.
Ariño Duglass has modern installations and sophisticated machinery, motivating all its teams to involve themselves in the research processes that enable the day to day incorporation of the latest technologies to our manufacturing processes and the development of new products that meet customer expectations.
Role in the project
ARIÑO will be on charge of validation of re-PVB for the final application of being used in laminated glass for construction sector. ARIÑO will work on activities of lamination PVB, both commercial and recycled in order to be compared and be checked against the targeted properties.